---
The connections

you need
We are a customer focused business, working across all the regions of the UK and employing a team of experienced and highly qualified people. We provide full turnkey services to our 30+ clients in the EV, commercial and residential sectors.
Our passionate and dedicated teams are focused on delivering outstanding service to all of our clients. We have a wealth of experience in delivering and understanding complex projects and take great pride in providing outstanding quality to all our clients.  
Because of this we're continuing to thrive and excel in the utilities industry, providing agile, responsive and second to none services to our clients every day.
What we offer
Our Services
Careers at Utility Line
---
Our superpower is our people; so investing in their talents and skills and harnessing their initiative is a priority for us. Our workforce continues to collectively grow building on Utility Line's foundations as an innovative and sustainable company.
We are a passionate and forward-thinking group of individuals, who continuously look at improving ways of working to benefit ourselves and our clients. We're proud of the industry we work in and proud to be contributing towards a carbon net-zero future.
---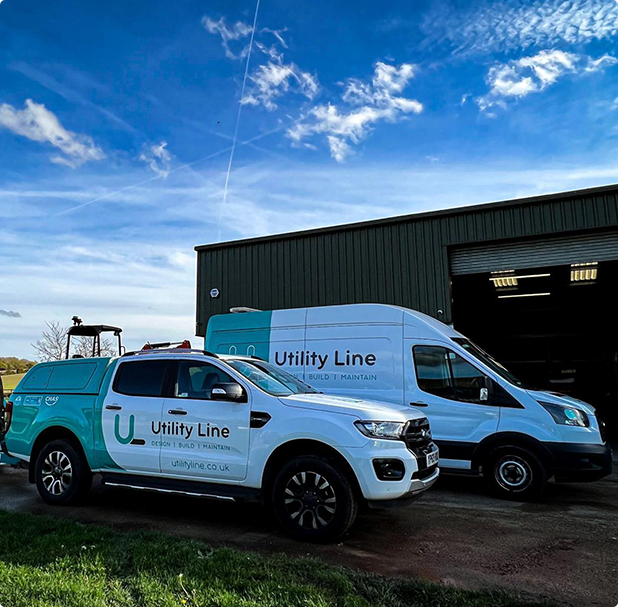 I have worked very closely with Nick Ravden and Utility Line for numerous years now on multiple projects. The standard of work they adopt with in this company is extremely high and the product quality is consistently outstanding, exceeding my expectations every time.

Their staff are not only friendly but also highly skilled in their field. Efficiency and punctuality are hallmarks of their service. I highly recommend this business. Their customer service is second to none.


"With their wealth of experience and forward thinking, Utility Line hit the ground running, understanding our requirements from the get go and providing an impeccable service from design to installation and energisation" They are a force to be reckoned with in this growing market!


I have been working with Utility Line over the past 18 months on large EV hub projects where they have completed the projects full turnkey, from point of connection to the installation of the EV chargers. Over this time Utility Line have demonstrated a high standard of work and health & safety. I look forward to working with Utility Line on many more projects in the future.


We are currently working with Utility Line on some of our industry leading projects and we would recommend them to anyone else in the field. Utility Line excel in their customer service levels and continually provide Go-Ahead with a level of support and care that is second to none. Alongside this they are reliable, proactive, conscientious and always look to provide fast solutions to overcome any obstacles encountered. We look forward to growing our relationship with them on some exciting projects throughout 2023.


The Utility Line Team provide a personable, quick solution meeting all deadlines and budget requirements. Both the Technical and Civils Team are extremely good at overcoming any obstacle at both design and installation levels, proving invaluable in challenging environments. Throughout, they provided a level of support and customer care that exceeded our expectation and we look forward to working with them in the future.


Nick's personal attributes permeate the very essence of Utility Line and his team. They are: Ownership, Trust, Reliability and Proactiveness. It's no wonder that with these underpinnings; Utility Line Ltd go from strength to strength and is absolutely the reason why Utility Line is the 'Go-To' provider for Aqua superPower Ltd, for not only our 'industry first' innovative projects but for all of our connections and projects across the board in the UK.


From design to connections and all the way through to delivery of the projects, Utility Line have provided an excellent service and we look forward to working with them on future projects.
Making the vital connections today
Utility Line continue to work on some of the UK'S leading EV infrastructure and commercial projects.